Our Author Friends
Phonics Stars love to celebrate storytelling!
And, we want to support authors, whether an author is established or just starting out.
We have received a number of storybooks from some wonderful Authors.
These Authors have requested the books are read to our Phonics Stars children and families.
We hope you have enjoyed listening to the stories.
Find out more about the books and our author friends right here:
Sue Atkins Biography
Sue Atkins is an internationally recognised Parenting Expert, Broadcaster, Speaker and Author of the Amazon best-selling books "Parenting Made Easy – How to Raise Happy Children" & "Raising Happy Children for Dummies" one in the famous black and yellow series as well as author of the highly acclaimed Parenting Made Easy resources.
She regularly appears on the award-winning flagship ITV show "This Morning," Good Morning Britain and Sky News & is the parenting expert for many BBC Radio Stations around the UK.
Sue is the Parenting Expert for Disney Family and records monthly podcasts and Facebook Live Tea Parties around 'Parenting Hacks.'
Her highly acclaimed 'Can Do Kid's Journal: Discover your Confidence Superpower' gives children the gift of self-esteem and empowers them to become creative, innovative, independent, resourceful, resilient & confident in their own abilities to try new things & able to bounce back after setbacks.
She has created The Sue Atkins Parenting Club which is bursting with Quick Win Videos, monthly webinars & regular Facebook Lives & is bursting with exclusive content for parents of children from babies & toddlers to teens.
Sue produces 'The Sue Atkins Parenting Show' a free weekly podcast which is bursting with Sue's practical ideas, techniques and down to earth strategies for raising happy, confident, resilient children with strong self esteem.
Sue has also created the 'Parentverse' her exclusive platform for her podcast interviews with global Experts from around the world in her 'Sue In Conversation With …' series.
Sue also has created The Sue Atkins Book Club showcasing the very best in parenting and children's books.
Sue offers practical guidance for bringing up happy, confident, resilient children and helps parents create happy childhoods, free from finger pointing or judgement.
Sue also specialises in supporting families through divorce & created the 'Divorce Journal for Kids' due for release in 2021 to help children express, explore and understand some of the strong emotions that they may be feeling and to help them process the divorce for themselves. She has also created a series of Divorce  Conversational Cards for parents to help start the difficult conversations about the changes that families face when they are going through divorce.
Sue's parenting articles are published all over the world & to receive her free eBooks bursting with practical tips and helpful advice from toddler to teen log on to www.theSueAtkins.com and download them instantly today.
Follow Sue on her socials: 
Twitter       Instagram      Facebook       LinkedIn        Pinterest       YouTube
Website www.thesueatkins.com   
The Can-Do Kid's Journal –  Discover your Confidence Superpower!
The Can Do Kid's Journal: Discover your Confidence Superpower is bursting with tried-and-tested activities that will empower children aged 7-11 with skills they need in this time of turbulence, change & uncertainty.
This fun filled illustrated journal is perfect for developing resilience, confidence and a growth mindset. It offers kids a multitude of engaging guided activities to help them make lots of small changes that will make a BIG difference in their day-to-day lives.
In this illustrated journal, children discover:
how to believe in themselves
how to face challenges with confidence
learn to bounce back after setbacks
This journal is designed to help children reflect on and record what they are good at and to celebrate their strengths.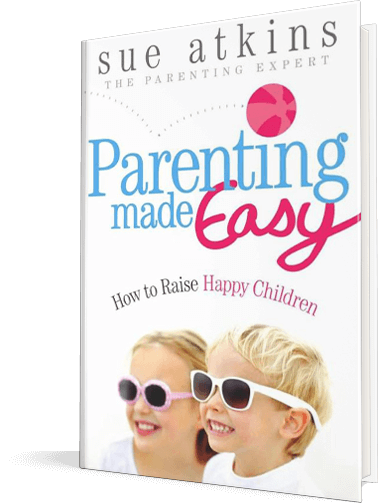 Parenting coach Sue Atkins has helped thousands of parents build stronger relationships with their children using her straightforward strategies. In this practical guide she shares her positive methods to help you parent with confidence and raise motivated, well-behaved and happy kids.
Develop your childrens' self-esteem
Turn conflicts into conversations
Encourage independence and good behaviour
Be confident and positive in your abilities as a parent
Separation and divorce are traumatic events for families.
This journal is designed to help children express, explore and understand some of the strong emotions that they may be feeling and to help them process the divorce for themselves.
Keeping a Journal is a very simple, but powerful way to support children.
As caring adults, we can help by simply acknowledging & listening to how a child may be feeling, without trying to "fix it".
This Journal is designed to support open and honest communication and to help children feel heard, understood and supported during a time of great upheaval.
Want to learn more about positive parenting? Join Sue Atkins right here. We will soon be sharing details of our Phonics Stars playlist with you shortly.
……………………………………
Sid The Snail Has Lost His Trail.
Written by Chloe Helene Harding – Coming Soon…
……………………………….
By Stacy Bax and Anita King. 
The Blurb…
"My name is Sydney Spider with twinkle in my feet, I have some friends along the path, I'd like you all to meet."
Come and join Sydney Spider and meet the lovable characters of Bakers Lane.  A tale of friendship and kindness as they join together to help a friend in need.
………………………..
By Terri Mc Menamin
' I am love' is a heartwarming book that reminds children from the beginning that they are extraordinary beings. Inspired by two Powerful words ' I AM'.
………………………………………..
The Hug (A Hedgehog and Tortoise Story) 
by 
Hedgehog was feeling sad.
As sad as a hedgehog can feel.
So sad only one thing could help . . .
Tortoise was feeling sad.
As sad as a tortoise can feel.
So sad only one thing could help . . .
In this clever flipbook, both a hedgehog and a tortoise are looking for a hug. They ask all the other animals they come across but for some reason no one will hug them. Until a wise owl explains: Hedgehog is too spiky; Tortoise is too bony.
And that's when they find each other!
……………………….
Mr Leafy and Friends Kindle Edition
by 
Mr Leafy and Friends is a picture book that encourages children to be more mindful and enjoy the nature that surrounds them. It is beautifully illustrated and written in rhyme, with a bee to find on every illustration and a list of nature related activities included in the back.
'Mr Leafy is a beautiful tree, a wondrous site for all to see; he stands tall branches swaying high in the sky, witnessing things not always noticed by you and I. Can you guess what he can as he stands viewing the world majestically?'
Mr Leafy sees fluffy tailed rabbits hopping by and beautiful brown hares leaping high; he also experiences hugs, observes birds, feels squirrels, hears vehicles and witnesses the seasons passing by, along with experiencing many other things. 'Mr Leafy never sleeps; he sees many sights as he stands majestically all day and night. If he could talk he'd tell you a tale or two. Look after Mr Leafy and his friends and he will help look after you.'
Mr Leafy and his friends live and surround us all, but they are rarely noticed despite standing so tall. Mr Leafy and his friends are important to help sustain life and this book aims to help little ones appreciate the nature outside.
By Charlie Mills
Review by Gemma Webb  Phonics Stars™️ Leader for Croydon, Coulsdon & Caterham
"Today I received a copy of the book 'Its cool to be me' and Wow! Such an amazing story. Very well written with a lovely hidden message and meaning. My son is in love with this story. The little boy in the story meets some fabulous characters and awesome dragons along the way. My son was captivated from the start"
We had such a wonderful response when Gemma read this live on the Phonics Stars Croydon and UK page. Highly recommended! Absolutely brilliant!
5 Stars 🌟🌟🌟🌟🌟
---
---